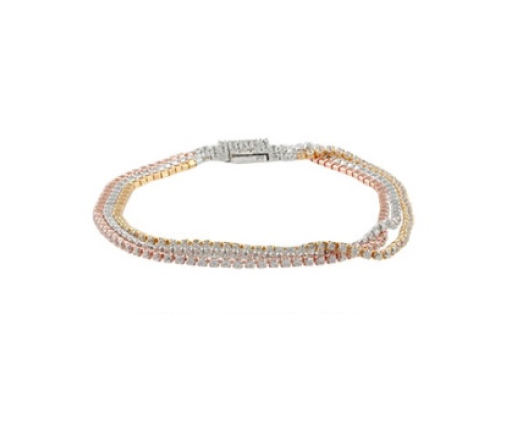 Madora Dainty Crystal Mixed Finish Bracelet
Madora Dainty Crystal Mixed Finish Bracelet
Regular price
$58.00
Save $-58.00
/
---
Brilliant pave' crystal three-line bracelet finished in three shades to illuminate and extend your wearability. Each row is plated differently, Rose Gold, Gold, and Silver plating. An elegant comfortable choice to wear to your social occasion event or everyday.
Cubic Zirconia
7.0" Long and .35" Wide
Hidden Box Pinch Clasp
Rhodium Silver, 14K Gold and Rose Gold Plating
A dainty bracelet with a lots of sparkle, 1mm Cubic Zirconia Crystals are hand-set in a three line bracelet. Each crystal line is individually plated in Rose Gold, Gold and Silver plating. Finished with detail, the hidden box style clasp is also lined with luminous crystals. A high end fine jewelry look and feel.
A bracelet that will coordinate with your other jewelry beautifully. Wear gold, silver or rose gold jewelry pieces with this bracelet and it will all work great together.